Disposable Central Venous Catheter Kit
COMMON FEATURES
1. Catheter made of polyurethane material with superior biocompatibility reduces risk of irritating the venous wall.
2. Thermosensitive polyurethane is sufficiently stiff to be easily inserted into the vein at room temperature and softens with warmth of body temperature.
3. Rounded and readily malleable soft catheter tip provides safety during placement and also while the catheter is in use.
4. Graduation marking indicated in centimeters precisely reveals the depth of insertion.
5. Radiopacity allows detecting of catheter placement.
6. Soft, flexible J-tip guidewire for atraumatic access and device placement.



KIT COMPONENT
•Central venous catheter
•Guidewire with advancer
•Vessel dilator
•Introducer needle
•Y connector
•5ml syringe
•22g syringe needle
•Catheter clamp
•Surgical scalpel
•Fastener: catheter clamp
•Blue introducer syringe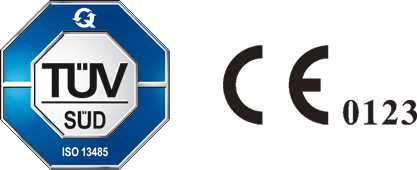 Fornia_CVC_Kit_Specification.pdf